Introducing our new summer weight distressed denim blue motorcycle jean. Fully lined with 100% genuine 330gsm terry-loop knitted Dupont™ KEVLAR® fiber & ce2 knee armour, the pants are suitable for the summer months in temperatures upto 40 degrees celsius or any rider after a more fitted less bulky/weight pair of motorcycle riding pants.
The pants are made to the same standards as our premium 500gsm version, we have simply used lighter weight protection for the every day rider, giving a better balance of comfort, breath-ability & budget without sacrificing protection standard for summer riding. Strictly made to a high minimum standard, performance, comfort & looks. Only the highest quality materials & stitchers are used. Free P&H Australia-wide for purchases over $100.

New batch has just arrived check out the 2023/2024 colour reference image.

Features:
* Reinforced with 100% Genuine Terry Loop Knitted Yellow 330gsm Dupont™ KEVLAR® fiber
* UK Satra abrasion tested, lasts 4 seconds which meets level 1 abrasion
* Knitted to allow breathability
* Fully lined front & back from waist to ankle
* Great to wear all season, light weight non bulky
* Airmax mesh comfort lined front and back
* Smooth, high quality YKK zipper fly w/brass loop
* New Removable CE2 Approved memory foam armour at knees
* Brass rivets at front pockets
* 5 belt loops
* Double & triple stitching throughout pants; inside, outside, back rise
* 3ply & 5ply bonded nylon thread
* 5 open pocket jean style

These beautiful dirty blue indigo washed denim jeans easily pass as a casual looking pair of jeans. Making them the perfect all rounder. Straight out of the packet these pre-washed jeans have a soft touch, so you can slide in them and go for a ride without any break in time.
Finnmoto independently tests the protective lining & denim used in its jeans. The impact abrasion test meets level 1 protection throughout the jeans for 13595-1: 2002 5.4 abrasion protection from Satra Technologies UK. (4 seconds of abrasion = level 1). The fabric has also been tested in Australia achieving 3.8 seconds.
DuPont™ and Kevlar® are trademarks of affiliates of DuPont De Nemours, Inc.
The actual measurements listed in the size chart below are in (INCH'S), recommended to use dress tape measure.

'Jean size' refers to the label size; true Australian jean size.
You can cross reference by measuring the circumference of your bodies waist line, match it upto 'recommended waist circumference'.
To triple check you can grab your existing good fitting jeans, lay them flat & measure across the waist as in picture below.
The sizing guide is our average leg cut (fits approx height 170cm to 185m). Short leg is approx 2inch shorter (<170cm). Long leg is approx 2inch longer. (>185cm)
| | | | | | | | | |
| --- | --- | --- | --- | --- | --- | --- | --- | --- |
| JEAN SIZE | 28 | 30 | 32 | 33 | 34 | 35 | 36 | 38 |
| Recommended Waist (circumference inch's) | 30" | 32" | 34" | 35" | 36" | 37" | 38" | 40" |
| Across Waist | 14.5" | 15.5" | 16.5" | 17" | 17.5" | 18" | 18.5" | 19" |
| Outer Leg | 40.5" | 41.5" | 41.5" | 41.5" | 42" | 42" | 42.5" | 42.5" |
| Inner Leg | 31.5" | 32" | 32.5" | 32.5" | 33" | 33" | 33.5" | 33.5" |
| | | | | | | | | |
| --- | --- | --- | --- | --- | --- | --- | --- | --- |
| JEAN SIZE | 38 | 40 | 42 | 44 | 46 | 48 | 50 | 52 |
| Recommended Waist (circumference inch's) | 40" | 42" | 44" | 46" | 48" | 50" | 52" | 54" |
| Across Waist | 19" | 20" | 21" | 22" | 23" | 24" | 25" | 26" |
| Outer Leg | 42.5" | 43" | 43.5" | 44" | 44.5" | 45" | 45.5" | 46" |
| Inner Leg | 33.5" | 33.5" | 33.5" | 34" | 34" | 34" | 34" | 34" |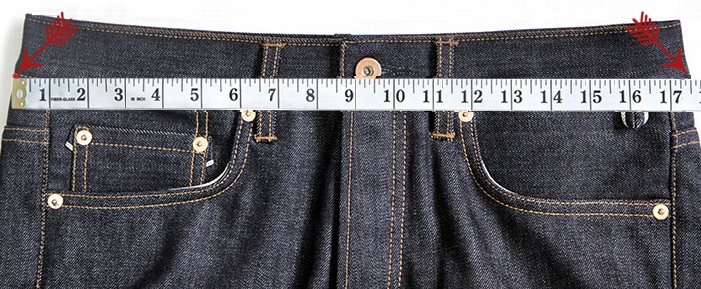 17.5inch across the waist will be a size 34.
If you normally wear a standard size 34 in Australia, you will fit in our size 34.
Measuring your bodies belt line it should measure 36inch waist circumference. To cross reference lay your normal jeans flat, measure cross the waist side to side equals 17.5inch. Remember our jeans have kevlar so if your normal 34 jeans might measure a little less.
USA: If you wear a size 34 in USA clothing, then you should choose 35 or 36 (use the circumference and across waist method).
If you need help with size selection please call or email with the following information:
- Normal jean size?
- Height?
- Actual waist circumference or across waist measurement of jeans?
Washed BLUE MOTORCYCLE JEANS - 300GSM

A well made product, very comfortable to ride in and fit well in riding position, am very impressed with this pair of jeans, and thankyou Matt for going the extra mile to make sure I had the right size and fitment, very happy with my investment in this product

These jeans are fantastic, I'm 190cm & 90kg, the size 38 in the long leg was perfect. Matt was really helpful during our the correct size for me, as always the customer service was excellent.

Fantastic product. Definitely recommend.

300 GSM Blue Motorcycle Jeans

Finn Moto's 300 GSM Blue Motorcycle Jeans are easily the best I have found in the market today. Very well made and a higher level of protection than any other mass produced products I could find and/or tried on. Matt was extremely knowledgeable and helpful on the subject of protective clothing. He has clearly spent an enormous amount of time researching the technical and safety aspects of his products and the end result is testament to this. Get to Finn Moto and see what they're all about, you won't regret it.

I got these a couple of weeks ago and are very happy with them. The fit/size is pretty much the same as my Levi's, look really good and very comfortable too

Great service and received as described.

I had a lowside accident yesterday while going down a wet corner. went off the bike, slid and rolled for 35-40m. I have minor bruising on my hip + knee. I swear if it was not for the hip + knee protectors, I would have fractured them both. Also, no abrasion injury whatsoever and aside from a torn butt pocket, the pants is still intact.

I originally bought the slim jeans however they were way too tight on my legs. Popped up to the warehouse and exchanged for this pair in a 32 (I normally fit into 32 in normal jeans) short cut which are spot on! (170cm). Only gripe with the jeans is that they are cut for an average guy. So while the waist fits me, the butt and thigh area is on the tighter side. But that's the usual for most pants I own anyway!

Very sturdy smart looking jeans. They are comfortable and a have slick looking cut. Was advised by Matt re sizing, which ended up being perfect. The jeans arrived within 3 days of ordering them, which was very impressive. Will certainly consider another pair from this seller.

seem to be well made; comfortable and not overbearing, even with protective pads and hip pads (though heavy obviously). The selection of lengths within sizes makes it easy to select the right fitting product and buy on-line when you are 200km away from stores. Quick and easy postage and delivery in very short time period. Will consider purchasing second set of different colour.

Blue motorcycle jeans 300grm Kevlar

Bought the black ones a year ago and absolutely loved them, ordered my reg size (38) but were a little snug around the legs, I'm 188cm and 115kgs weightlifting, so I'm a bit thicker in the legs and butt than most my size. Exchanged for size 40 and fit amazing. Bought the blue version this year (size 40). Fit is definitely bigger, denim also is different, light weight. Which initially was really disappointing, my black 300gr feel really different, thicker and a heavier denim. I live in Cairns where its soon going to be in mid 30's and 70%+ humidity. So these blue ones although not as good a fit or quality denim, are heaps cooler than the black, I didn't give 5 stars because they are not what I expected, and the sizing was not the same,but still offer good value. A good hot/humid weather riding Jean. Although I'm not in love with the fit or looks, I get lots of positive comments about them.

These jeans are fantastic. They fit really well and are very comfortable to ride in. Got caught in a massive downpour wearing these and they dried overnight in front of a/c.