Introducing the new Mens Slim Stretch Black Denim Motorcycle Jeans reinforced with 100% genuine DuPont™ KEVLAR® fiber. Designed specifically for the younger riders looking for a pair of fashionable jeans with all the desired motorcycle riding protective features. A mid-rise cut offers maximum coverage & comfort sitting on the bike with slim cut legs & semi-tapered ankle fitting snugly over boots reducing wind drag. The stretch denim provides a slimmer look without compromising function or comfort.
These fantastic jeans offer the same great protection our standard cut 882 model offers. New bionic water repellent finish, hip armour pockets & all season weight fully lined protection. The protective lining has been tested to last 4 seconds of impact abrasion through independent company Satra UK meeting level 1 protection. The Slim Black Motorcycle Pants are ideal for riders in there teens, 20's & 30's. They feel like a normal weight pair of jeans for comfortable all season riding especially summer months.
The fabric is treated with a long lasting New Water-Repellent finish. Finn Moto's unique combination of impact & abrasion resistance along with its weatherproof properties gives our motorcycle riders the confidence & convenience they need on & off the motorbike. Strictly made to a high minimum standard, performance, comfort & looks. Only the highest quality materials & stitchers are used. Free P&H Australia-wide for purchases over $100. Currently

* Reinforced with genuine terry loop knitted Yellow 330gsm DuPont™ KEVLAR® fiber
* UK Satra abrasion tested, lasts 4 seconds which meets level 1 abrasion
* Knitted to allow breathability
* Fully lined front & back from waist to ankle
* New Bionic-Finish Water repellent - Eco Friendly
* Great to wear all season, light weight
* Stretch black denim
* Airmax mesh comfort lined front and back
* Smooth, high quality YKK zipper fly w/brass loop
* Removable CE Approved Slim PU Knee/Shin protection
* New Hip armour pockets (optional hip armours available at $14.95 per set)
* Brass rivets at front pockets
* 5 belt loops
* Double & triple stitching throughout pants; inside, outside, back rise
* 3ply bonded nylon thread, heavy ticket for strength, uv protected
* 5 open pocket jean style

Straight out of the packet these jeans have a soft touch, so you can slide into them with ease and be comfortable riding.
The new weatherproof cotton denim shell is treated with Bionic-Finish which is Water, Oil & Soil Repellent allowing you to ride in light rain without the pants being soaked through (dries rapidly). The treatment is bluesign approved (eco friendly/safe). Extended products life with UV protection. The cleaning properties of Bionic-Finish is designed specifically for clothes allowing bends/folds where as nano technology requires a firm flat surface; (The water beads off like it does on a lotus leaf).
Finnmoto independently tests the protective lining & denim used in its jeans. The impact abrasion test meets level 1 protection throughout the jeans for 13595-1: 2002 5.4 abrasion protection from Satra Technologies UK. (4 seconds of abrasion = level 1). The fabric has also been tested in Australia achieving 3.8 seconds.
DuPont™ and Kevlar® are trademarks of affiliates of DuPont De Nemours, Inc.
The actual measurements listed in the size chart below are in (INCH'S), recommended to use dress tape measure.

'Jean size' refers to the label size; true Australian jean size.
You can cross reference by measuring the circumference of your bodies waist line, match it upto 'recommended waist circumference'.
To triple check you can grab your existing good fitting jeans, lay them flat & measure across the waist as in picture below. Note: being a stretch denim its possible to stretch the diameter an extra inch or so. If using this method just apply enough force to flatten the waist.
The sizing guide is our average leg cut (fits approx height 165cm to 180cm).
| | | | | | | | | |
| --- | --- | --- | --- | --- | --- | --- | --- | --- |
| JEAN SIZE | 28 | 30 | 32 | 33 | 34 | 35 | 36 | 38 |
| Recommended Waist (circumference inch's) | 30" | 32" | 34" | 35" | 36" | 37" | 38" | 40" |
| Across Waist | 14.5" | 15.5" | 16.5" | 17" | 17.5" | 18" | 18.5" | 19" |
| Outer Leg | 40.5" | 41.5" | 41.5" | 41.5" | 42" | 42" | 42.5" | 42.5" |
| Inner Leg | 31.5" | 32" | 32.5" | 32.5" | 33" | 33" | 33.5" | 33.5" |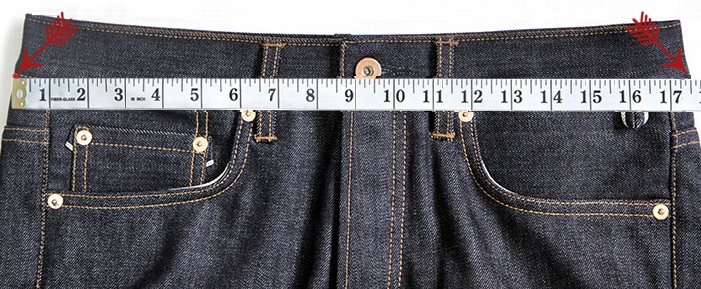 17.5inch across the waist will be a size 34.
If you normally wear a standard size 34 in Australia, you will fit in our size 34.
Measuring your bodies belt line it should measure 36inch waist circumference. To cross reference lay your normal jeans flat, measure cross the waist side to side equals 17.5inch. Remember our jeans have kevlar so if your normal 34 jeans might measure a little less. (dont over stretch the waist when doing this method).
USA: If you wear a size 34 in USA clothing, then you should choose 35 or 36 (use the circumference and across waist method).
If you need help with size selection please call or email with the following information:
- Normal jean size?
- Height?
- Actual waist circumference or across waist measurement of jeans?
Slim Black Motorcycle Jeans - 300gsm

These are great, nice amount of stretch in them and they look like ordinary denim jeans you can wear day in, day out.

Great looking and fitting pants with quality protection to back it up. Fingers crossed I won't need them but confident they will do the job.

These jeans are great! The fit is good and after 2/3 wears they stretch the fit me. The kevlar is stitched into the jeans rather than being a flap, which is a very nice feature. The knee pads also have some room for adjustment which is nice.

Jeans worked flawlessly riding 15°-32°

Did 1200km on the bike over the weekend and jeans worked flawlessly in all conditions. I was riding in temps ranging from 15°-32° and they weren't too hot or cold at any point. I even got hit with a huge downpour at one point and to my surprise they were quite waterproof even at highway speeds - that coating must work wonders.

Great casual riding jeans

Very happy with the quality and fit, Feel like normal jeans when riding, very comfortable and gives you confidence if you do have an accident that the kevlar lining will do its job..

Best motorcycle pant out there.

Cannot believe how amazing these pants are. I live across the world and the fitment was spot on. They look like a jean I would wear out, but offer protection if I ever went down. Style and protection both get 5 stars. Buy them with confidence.

Very comfortable, good protection

Kevlar lining is for the whole pant, not just for the seat like some kevlar jeans. The fit is pretty good, people can't tell there's anything different about the jeans except the knee armour (there's substantial knee armour!) makes a small bulge. Would recommend to anybody who wants some everyday pants. I find it is important to wear them high with a belt, as the extra weight of the kevlar and the knee armour weighs the jeans down a bit and the armour is a bit uncomfortable if the jeans are riding low. Great jeans and great service!

Hi, I purchased the Finn Moto Kevlar Jeans recently and they arrived about a week after payment was made. They fit great and are comfortable when riding for long periods. I will definitely shop with Finn Moto again. Cheers, -Jerry.

Matt was extremely helpful helping during my selection process. They arrived quickly and you could tell the quality right out of the package. They look and feel fantastic! Cheers