Classic Raw Blue Denim Motorcycle Jeans features new bionic water repellent finish, hip armour pockets & our standard fully lined 300gsm knitted Dupont™ KEVLAR® protection. The protective lining has been tested to last 4 seconds of impact abrasion through independent company Satra UK meeting level 1 protection. The Raw Blue Motorcycle Pants are perfect for all riders after a normal weight pair of jeans for comfortable all season riding especially summer months.
The 882 pattern is a modified classic straight cut pair of jeans which looks good & feels comfortable on & off the bike; suiting all aged riders who dont wear slim/skinny fit jeans. The fabric is treated with a long lasting New Water-Repellent finish. Finn Moto's unique combination of impact & abrasion resistance along with its weatherproof properties gives our motorcycle riders the confidence & convenience they need on & off the motorbike. Strictly made to a high minimum standard, performance, comfort & looks. Only the highest quality materials & stitchers are used. Free P&H Australia-wide for purchases over $100.
Features:
* Genuine Terry-loop Knitted Yellow 330gsm Dupont™ KEVLAR®
* UK Satra abrasion tested, lasts 4 seconds which meets level 1 impact abrasion
* Knitted to allow breathability
* Protection fully lined front & back from waist to ankle
* New Bionic-Finish Water repellent ultra durable - Eco Friendly
* Great to wear all season, light weight non bulky
* Airmax mesh comfort lined front and back (fixed to KEVLAR® )
* Smooth, high quality YKK zipper fly w/brass loop
* New Removable CE2 approved comfortable memory armour at knees
* Hip armour pockets (optional hip armours available $14.95)
* Brass rivets at front pockets
* 5 belt loops
* Double & triple stitching throughout pants; inside, outside, back rise
* 3ply & 5ply bonded nylon thread
* 5 open pocket jean style

Straight out of the packet these jeans have a soft touch, so you can slide into them with ease and be comfortable riding.
The new weatherproof cotton denim shell is treated with Bionic-Finish which is Water, Oil & Soil Repellent allowing you to ride in light rain without the pants being soaked through (dries rapidly). The treatment is bluesign approved (eco friendly/safe). Extended products life with UV protection. The cleaning properties of Bionic-Finish is designed specifically for clothes allowing bends/folds where as nano technology requires a firm flat surface; (The water beads off like it does on a lotus leaf).

Finnmoto's Dupont™ Kevlar® has been abrasion tested; passing level 2 in impact areas & level 1 in single layer KEVLAR® areas for 13595-1: 2002 5.4 abrasion protection from Satra Technologies UK.
The actual measurements listed in the size chart below are in (INCH'S), recommended to use dress tape measure.

'Jean size' refers to the label size; true Australian jean size.
You can cross reference by measuring the circumference of your bodies waist line, match it upto 'recommended waist circumference'.
To triple check you can grab your existing good fitting jeans, lay them flat & measure across the waist as in picture below.
The sizing guide is our average leg cut (fits approx height 170cm to 185m). Short leg is approx 2inch shorter (<170cm). Long leg is approx 2inch longer. (>185cm)
| | | | | | | | | |
| --- | --- | --- | --- | --- | --- | --- | --- | --- |
| JEAN SIZE | 28 | 30 | 32 | 33 | 34 | 35 | 36 | 38 |
| Recommended Waist (circumference inch's) | 30" | 32" | 34" | 35" | 36" | 37" | 38" | 40" |
| Across Waist | 14.5" | 15.5" | 16.5" | 17" | 17.5" | 18" | 18.5" | 19" |
| Outer Leg | 40.5" | 41.5" | 41.5" | 41.5" | 42" | 42" | 42.5" | 42.5" |
| Inner Leg | 31.5" | 32" | 32.5" | 32.5" | 33" | 33" | 33.5" | 33.5" |
| | | | | | | | | |
| --- | --- | --- | --- | --- | --- | --- | --- | --- |
| JEAN SIZE | 38 | 40 | 42 | 44 | 46 | 48 | 50 | 52 |
| Recommended Waist (circumference inch's) | 40" | 42" | 44" | 46" | 48" | 50" | 52" | 54" |
| Across Waist | 19" | 20" | 21" | 22" | 23" | 24" | 25" | 26" |
| Outer Leg | 42.5" | 43" | 43.5" | 44" | 44.5" | 45" | 45.5" | 46" |
| Inner Leg | 33.5" | 33.5" | 33.5" | 34" | 34" | 34" | 34" | 34" |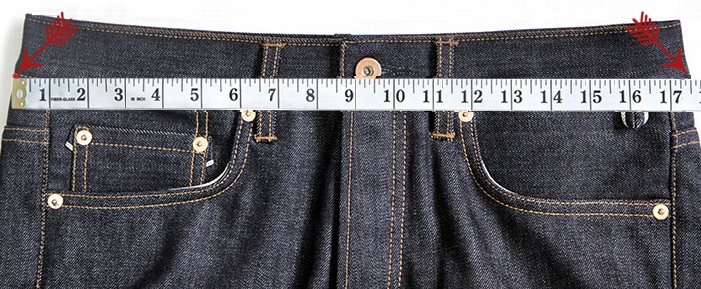 17.5inch across the waist will be a size 34.
If you normally wear a standard size 34 in Australia, you will fit in our size 34.
Measuring your bodies belt line it should measure 36inch waist circumference. To cross reference lay your normal jeans flat, measure cross the waist side to side equals 17.5inch. Remember our jeans have kevlar so if your normal 34 jeans might measure a little less.
USA: If you wear a size 34 in USA clothing, then you should choose 35 or 36 (use the circumference and across waist method).
If you need help with size selection please call or email with the following information:
- Normal jean size?
- Height?
- Actual waist circumference or across waist measurement of jeans?
24 Reviews
Raw Blue Motorcycle Jeans - 300gsm Kevlar

fit great, length great, they are just great!

Great product, far superior to anything else I've looked at. Matt went out of his way to make sure I had the right item. Will be buy from Finn Moto again next time.

I recently purchased a pair of Raw Blue Motorcycle Jeans from Finn Moto. My order was processed the same day I ordered them and mailed to me the same afternoon. Great service. Couldn't be happier with the quick turn around.
I am a size 40 and 185cm, so I ordered that size and the pants fitted perfectly in the waist and the leg.
The jeans did not feel too heavy in spite of the full Kevlar lining and they did breath well when I wore them out on a 24 degree day. I am glad I went for the 300gsm.
They look like authentic jeans and you don't look like you just got off a bike.
I can recommend this product.

Very well made jeans, this is the fourth pair of Kevlar lined trousers I have bought and for the money are certainly the best.

The jeans fit very well and look just like normal fashion jeans. The inside of the jeans are fully lined with Kevlar rather than just having patches as most jeans do, crucially they also have a thin mesh liner separating the Kevlar from your skin so this will help ventilation and keep your legs cooler in summer.

The knee armour that is included is a memory foam type so it sits much better in the jeans and when wearing the jeans you can barely see the armour is there.

All in all these jeans are a bargain, there's brands out there for double the price which offer no additional benefits other than a well known brand name label on them.

As a side note one of the pieces of knee armour was damaged on arrival, after sending an email informing Finn moto they immediately agreed to send a replacement and 4 days later a replacement pair of armour pads arrived in the post.

Cannot fault the product or service.

These are the best protective motorcycle jeans I have owned. The focus on sizing ensures these jeans not only fit in the waist, rear and leg, they also look good and are super comfortable. Having owned and worn products by three different manufactures in recent years these jeans are by far the best - looks, quality and value for money. Pre and post customer service was excellent. Highly recommended.

Great Product and Excellent Service

Being a Size that is very hard to fit I have done a lot of searching when I came across Finnmoto, Not expecting any luck but read the comments and decided to ring,

I would like to say that Matt went out of his way to make sure that the jeans would fit, as my sizing was 50 and the legs were to long but Matt compared the jeans I wear to the jeans he sells and with no problem if they needed to be returned I brought them.

The sizing was right and I had the jeans taken up in the length and they fit great, only problem was the knee pads which needed to be sewn closer to the outside seam in my case. Thanks Matt for such great service and a great item.

Impressive quality and perfect fit!

I have tried on a few different motorcycle jeans in brick and mortar stores and none of them fitted me well, so I was not expecting ones bought online to be much better. I thought there was a good chance that I would have to return them, so wanted a store with a no hassle returns policy.

I read someone else's review on this site that they got their normal size and they fitted no problem, so saw that as a good sign. So I ordered my normal size and they fitted perfectly. With or without the hip armour, they fit really well and are comfortable and look good. Really impressive!

The overall quality of the product is really good as well. I did a fair amount of shopping around and believe that they are really good value for money.



These are definitely worth the purchase. I was a little skeptical on just how "wearable" these would be, given the inherent protection and I have been pleasantly surprised. I was expecting something relatively "stiff" which I would certainly have lived with, given their purpose but these jeans while a bit heavy (naturally) are surprisingly supple.

I have only used them a few times so far but all on long day rides, starting early in the morning. They are certainly good for providing that extra bit of warmth and are not overly hot in the middle of the day. Haven't had to use them in the wet yet but am a bit over purposely riding in the wet ... :)

They fit over boots easily ... are easy to get on and off ... and for all intents and purposes just look like regular jeans.

I looked at quite a few suppliers but have purchased from Finn Moto previously (gloves which are fantastic) and Matt's open and honest advice and lack of marketing spin was what finally swayed me.

Excellent supplier, excellent product ... well worth the purchase.

Just what I've been waiting for.

I've had jeans before. But none have been as good as these. Love the water repellent outer. Works like a treat. Comfortable. Hard wearing and finally. A Jean that is long enough!
Great work. Great jeans. Great fit!

I ordered my jeans not knowing really what to expect of the quality, fit and comfort. Having tried on several different brands I was finding it hard to find a pair that that actually fit me in a half decent manner and weren't stupendously expensive for what they are - road jeans.
So I took a gamble on the Finn jeans and I'm very glad I did.
The look, fit and feel of the jeans is awesome. They are comfortable on the bike and off the bike whilst I'm posing in cafes drinking my flat white!!!!
Love them, would order them again in a heartbeat and definitely recommend them to anyone looking for great value, good protection and awesome jeans.

Met up with Matt at his shop, he gave me some great ideas on other clothing and accessories for my cruiser. It's been a couple of weeks now and the Jeans I bought are perfect. Thanks Matt, I'll definitely be back.

If your looking for large size motorcycle Kevlar riding jeans Check out Finn moto, they have some great products available and fast Hassle free service.