Posted by Finn Moto on 30th Oct 2019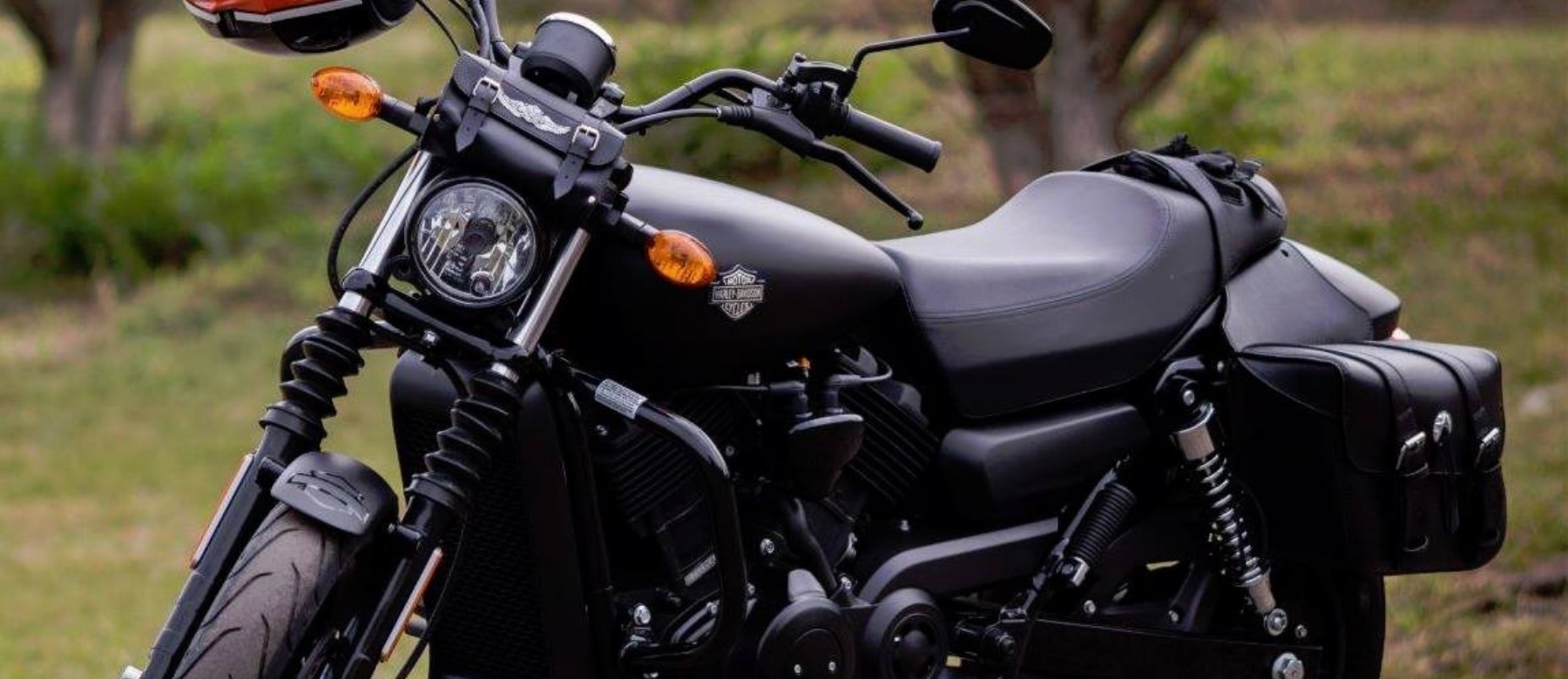 Fitting Motorcycle Saddlebags for your Harley Davidson Street 500 / 750 (XG500/XG750) can be a little tricky. Some of the challenges riders face when looking for saddlebags for their motorbike is finding the correct shape & size bags that will fit nicely inbetween the external shock absorber & indicators. Along with making sure the saddlebags arn't too wide otherwise they will end up looking like giant fridges strapped to your bike. Fitting the saddlebags can be just as challenging deciding whether to go with a fixed support bracket or detachable bracket all whilst keeping to a budget.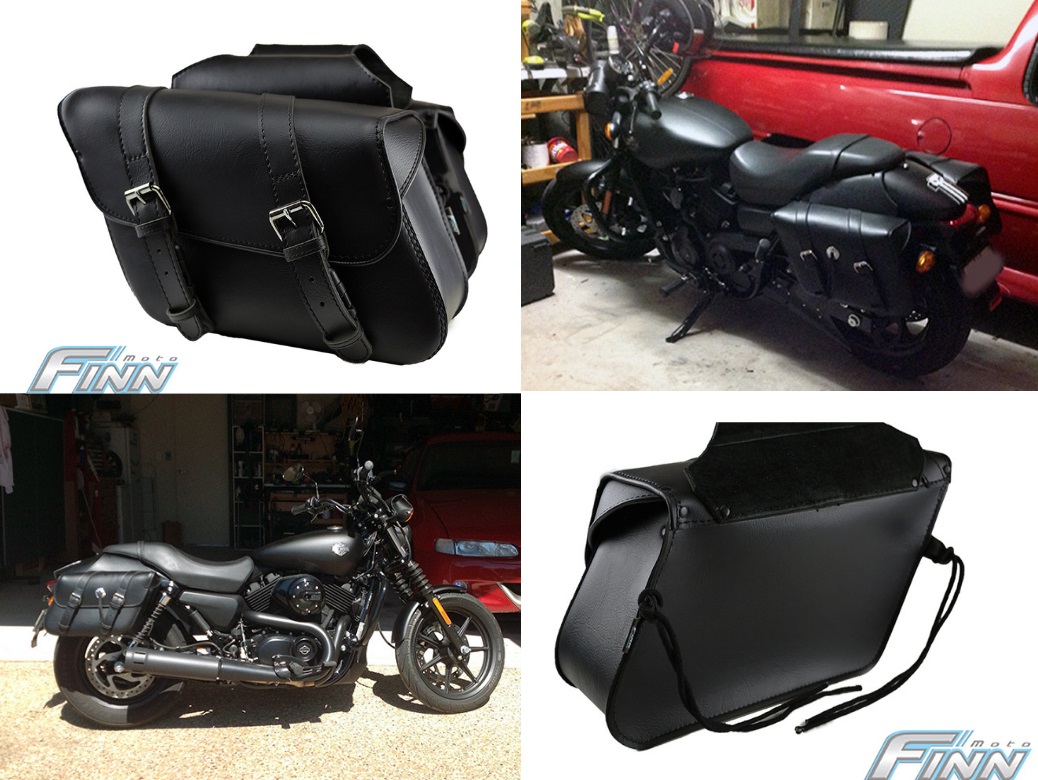 Being a smaller bike compared to other Harley Davidson's its important you fill in as much space as possible. This leaves one option for the shape; a saddlebag with a 45 degree cut out fits nicely behind the shock absorber & indicators. You could fit a rounded saddlebag and have it fit over the shock absorber but it wouldn't look very nice throwing off the bikes lines.
Keeping with the bikes looks its important to restrain from choosing saddlebags that are too big which will take over the look, you want them to blend in. One set that achieves this is the 504 Throwover Motorcycle Saddlebag, its dimensions are Length = 15" / 38cm, Height = 11" / 28cm, Width = 6" / 15cm. You wouldn't want anything less for the width of the saddlebags but at the same time you wouldn't want to go much wider because anything more will throw off the look. You can use these measurements as a guide to determine how other saddlebags will fit your motorbike.

Fitting throwover saddlebags can be as easy or as hard as you make it. The normal way is to adjust the middle yoke to position the saddlebags at the desired height fitted under the seat. To keep the saddlebags off your rear fender & from going into the wheel its suggested you fit a support bracket; then bags can then be tied to the bracket or you could bolt them to it; the chrome bracket is usually tubular for strength in a triangle or U shape (not available through us); the bags are then tied to the bracket or if handy you can bolt them to it. The only downside with this is its a little bit time consuming and annoying when it comes taking the bags on & off. If you plan on just leaving them on there the whole time this is the most cost effective option, id recommend bolting the bags to the support bracket.
Update November 2020: you can fit the 504 throwover saddlebags without a supporting bracket to the Harley Davidson Street 500. Simply position the saddlebags over the shock absorber and use the included ties to secure it; you may want to fit a neoprene sock or similar to protect the shock absorber / cushion wear marks.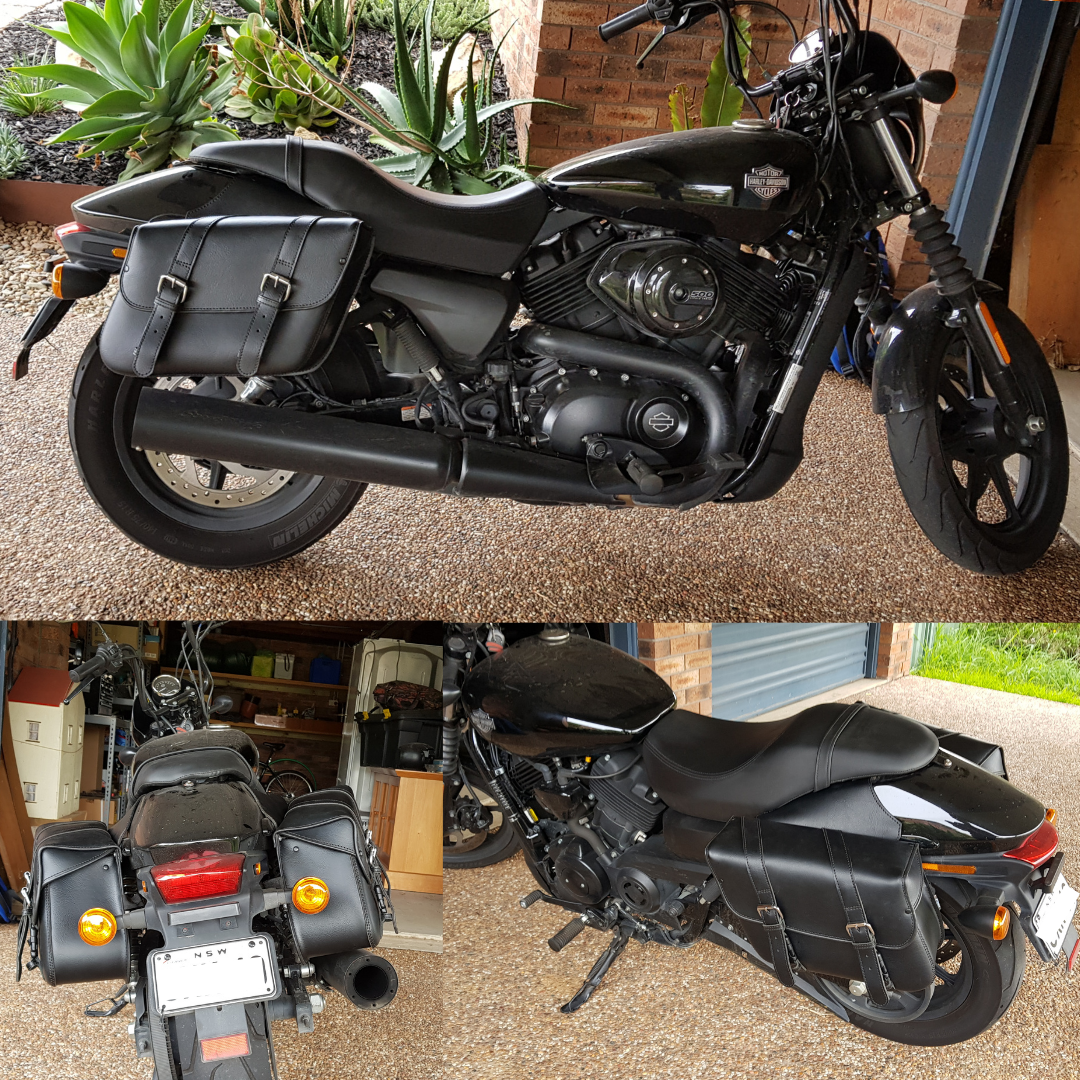 The alternative saddlebag mounting option is a lockable quick release saddlebag bracket. This is ideal for customers who want to fit a rigid set of saddlebags, being able to lock them on the bike, position exactly where they want & ability to take them on and off in seconds. This saddlebag system is a premium option and will cost approximately $600 all included. Where as throwover saddlebags & U shape bracket kit would be a little over half that.


Depending on your budget and if you plan to leave the bags on or like the idea of quickly taking them on and off will help make that decision. For example: If you just need to fit a few things and plan on leaving the bags on your bike or only use them during road trips a few times a year the throwover bags will be perfect. Alternatively if you find yourself taking the bags on/off all the time, doing plenty of road trips or carrying heavier weight the premium rigid and easy bracket solution will be better. The 110 saddlebags are a little bit bigger than the throwover bags, they will fit the HD street 500/750. If you would like to discuss your options or have an alternative saddlebag design in mind; were always designing & manufacturing new styles please get in contact with us more than happy to help.
Contact us - sales@finnmoto.com.au or Matt - 0405 247 408