Posted by Finn Moto on 24th Nov 2020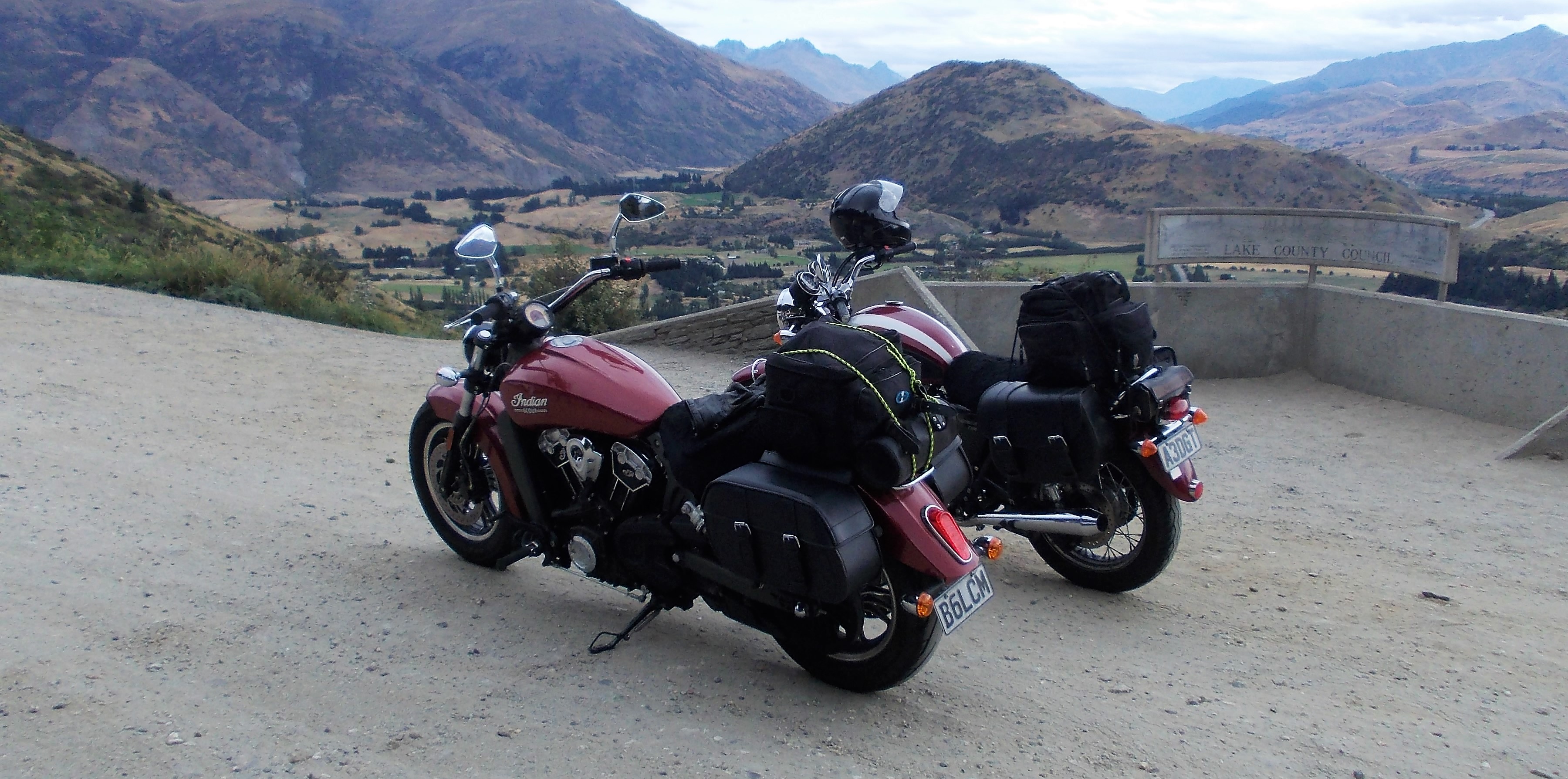 Finding some motorcycle saddlebags for your Indian Scout can be a bit of a puzzle as it all depends on your specific setup. Assuming you have stock exhausts without a passenger seat you really want some saddlebags that are not taller than 10.5inch; any taller you risk either hitting the exhaust or the bags stick up over the rear fender which doesn't look the best. Where as if you have aftermarket exhausts and/or passenger seat you can get away with longer and taller bags without them looking over the top.
Being a medium size cruiser its best to stick with medium size saddlebags which generally measures 16 to 18inch length, 10 to 11inch height & 6 to 7inch width.
The stacked stock exhaust finishes high, external shock absorber & low rear fender guard limits your options to the shape of the medium size saddlebag. You can utilise the space by opting for a longer rectangle bag due to the indicators already pushed right back. Avoid overly large, tall and wide saddlebags to ensure they become part of the bike. There is nothing worse than sticking two large size bags that take away the look and function of your Scout.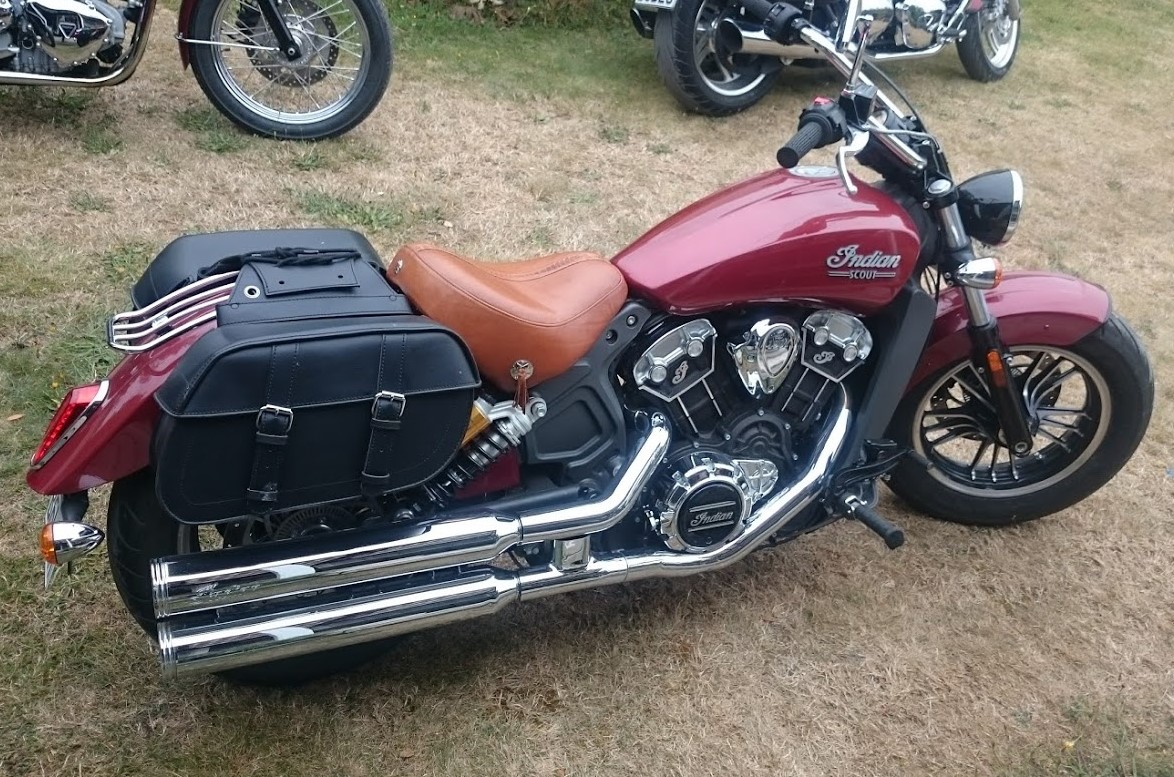 Breaking it down into options there is two paths you can take, depending your budget and how you plan to use the saddlebags you can choose a cost effective fixed Throwover Saddlebags or a Lockable Quick Release Saddlebags that takes your Indian Scout back to a stock look in seconds leaving no ugly mounting hardware on the bike.
At the moment there are two throwover saddlebag designs that will work with the Indian Scout; Models 507 & 509. The 507 is a great all-round saddlebag that will fill in the available space of the Indian scout, it measures 17inch in length, approx 10.5inch height and 6.5inch width; they're not the biggest bags but as you can see work well as a day & travel saddlebag.
The 509 small has a bit more character to it; offering a chopper style. Its a little smaller in size but ideal for someone looking only to hold a few things and not have the bags stand out too much. The 509 is available in full black and brown strap. If your looking for a bit more storage its available in a larger size without the throwover feature called model 109.
The model 109 as pictured below with brown belt & V lid with decorative brown stitching is also available in full black. It fits best with the lockable saddlebag brackets. The bag measures approx 16inch x 11inch x 7inch it fills the available space on the Indian Scout with rear passenger seat quite well, you wouldn't want to go any bigger.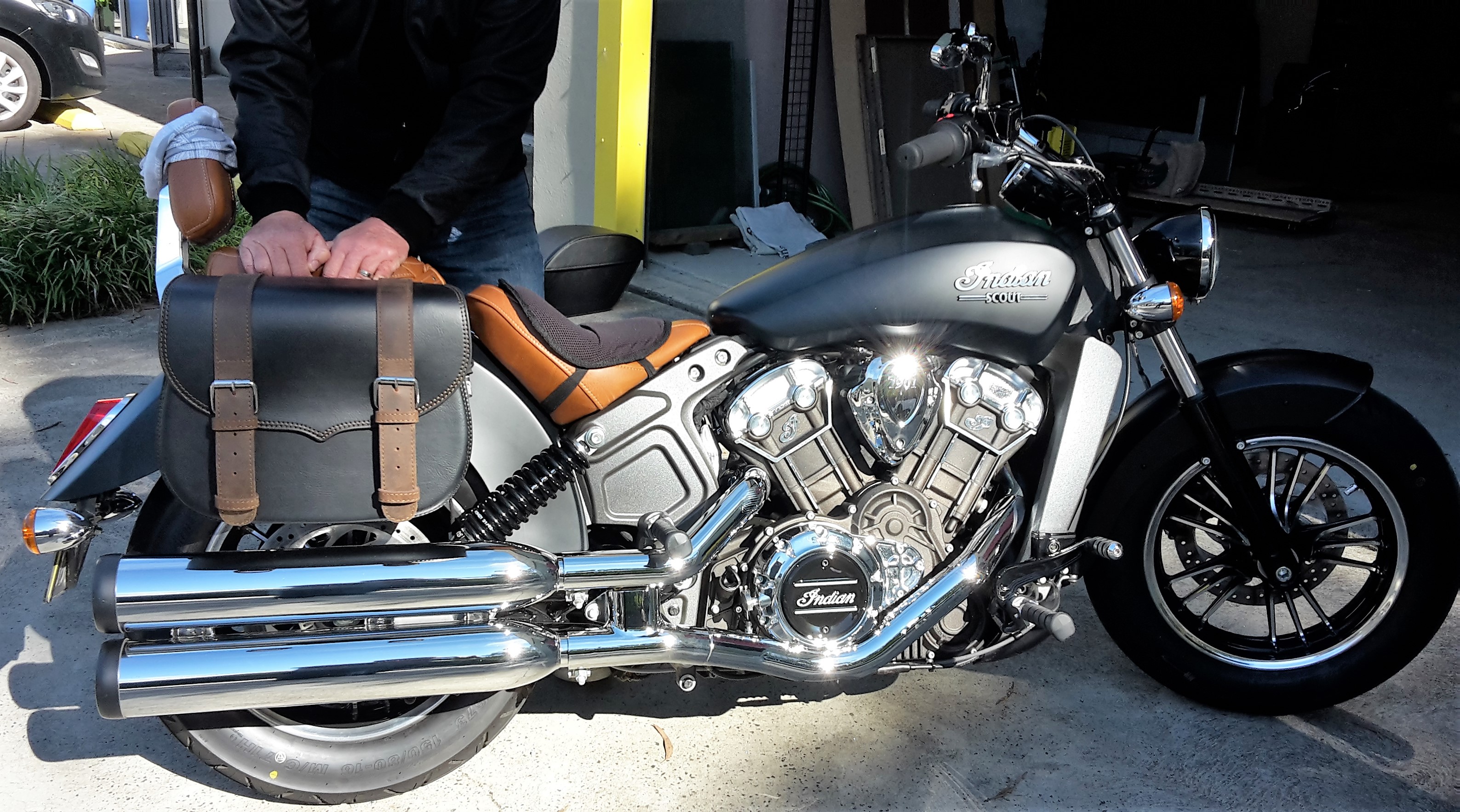 Easy lockable saddlebag brackets, allows you to mount any saddlebags to your motorcycle. The kid includes all the mounting hardware required to fit the saddlebags & brackets to your specific Indian Scout. Fits with and without detachable backrest, the docking posts add onto your indian posts allowing you to use the backrest and saddlebag brackets independently.
The motorcycle saddlebags that fits the Indian Scout perfectly is our well refined 510L; this bag continues to surprise us fitting all sorts of medium size cruisers such as Triumph America, Honda Rebel, Yamaha Roadliner, Harley Davidson Low Rider etc... Its a medium sized lockable bag that includes inner lid organiser and inner removable bag, the lid opens from the rear forward achieving a sleek modern look. With a stock & aftermarket exhaust you can get the bag down really low complimenting the lines of the bike sitting level with the rear fenders. Paired with the lockable easy brackets you can take them on and off in seconds, going from traveler to weekend rider in seconds.
If you prefer to fit larger saddlebags with a cleaner finished look & the ability to take the bags on & off in seconds leaving no ugly hardware then our rigid saddlebag line is worth checking out. Models 108L, 109 & 510L work really well on the Indian Scout. If you like the throwover styles they are built just as rigid so you can remove the middle yoke and bolt them to the brackets aswell. See our saddlebag range & Indian Scout Saddlebag Brackets.
A new style that was specifically designed for Medium sized cruisers is our 108L - available January 2021 (pictures coming soon)
If you have any questions or suggestions your more than welcome to contact and work out the best setup for you.
Contact us - sales@finnmoto.com.au or Matt - 0405 247 408