Introducing our new Protective Black Motorcycle Jeans lined with knitted Dupont™ KEVLAR® fiber. Fully lined from waist to ankle front & back with genuine 500gsm knitted KEVLAR® which passed Satra UK level 2 abration test. These premium protective jeans are comfortable all season with its airmax mesh lining. They keep you warm in the colder season & nights with its thicker protective layer doubling as insulation.
The pants have been made to our strict standard for performance, comfort & looks. Only the highest quality materials & stitchers are used.
Note: Currently made to order. please allow 6 weeks to manufacture.


Features:
* Genuine Knitted Yellow 500gsm Dupont™ KEVLAR® fiber
* UK Satra abrasion tested, lasts 7 seconds which meets level 2 abrasion
* Knitted to allow breathability
* Fully lined front & back from waist to ankle
* New Bionic-Finish water repellent ultra durable - Eco Friendly
* Thicker protective layer doubles as insulation for colder season
* Airmax mesh all season comfort lined front and back
* Smooth, high quality YKK zipper fly w/brass loop
* New Removable CE2 Approved Memory Foam Armour at knees/shins
* Brass rivets at front pockets
* 5 belt loops
* Double & triple stitching throughout pants; inside, outside, back rise
* 3ply & 5ply bonded nylon thread
* 5 open pocket jean style

These protective motorcycle pants easily appear as a normaly pair of black denim jeans, achieving a casual look. No outer seems so they look normal on & off the bike. Straight out of the packet these jeans have a soft touch, so you can slide into a comfortable fit.
Finnmoto independently tests the protective lining & denim used in its jeans. The impact abrasion test meets level 2 protection throughout the 500gsm lined jeans for 13595-1: 2002 5.4 abrasion protection from Satra Technologies UK. (7 seconds of abrasion = level 2).
DuPont™ and Kevlar® are trademarks of affiliates of DuPont De Nemours, Inc.
The actual measurements listed in the size chart below are in (INCH'S), recommended to use dress tape measure.

'Jean size' refers to the label size; true Australian jean size.
You can cross reference by measuring the circumference of your bodies waist line, match it upto 'recommended waist circumference'.
To triple check you can grab your existing good fitting jeans, lay them flat & measure across the waist as in picture below.
The sizing guide is our average leg cut (fits approx height 170cm to 185m). Short leg is approx 2inch shorter (<170cm). Long leg is approx 2inch longer. (>185cm)
| | | | | | | | | |
| --- | --- | --- | --- | --- | --- | --- | --- | --- |
| JEAN SIZE | 28 | 30 | 32 | 33 | 34 | 35 | 36 | 38 |
| Recommended Waist (circumference inch's) | 30" | 32" | 34" | 35" | 36" | 37" | 38" | 40" |
| Across Waist | 14.5" | 15.5" | 16.5" | 17" | 17.5" | 18" | 18.5" | 19" |
| Outer Leg | 40.5" | 41.5" | 41.5" | 41.5" | 42" | 42" | 42.5" | 42.5" |
| Inner Leg | 31.5" | 32" | 32.5" | 32.5" | 33" | 33" | 33.5" | 33.5" |
| | | | | | | | | |
| --- | --- | --- | --- | --- | --- | --- | --- | --- |
| JEAN SIZE | 38 | 40 | 42 | 44 | 46 | 48 | 50 | 52 |
| Recommended Waist (circumference inch's) | 40" | 42" | 44" | 46" | 48" | 50" | 52" | 54" |
| Across Waist | 19" | 20" | 21" | 22" | 23" | 24" | 25" | 26" |
| Outer Leg | 42.5" | 43" | 43.5" | 44" | 44.5" | 45" | 45.5" | 46" |
| Inner Leg | 33.5" | 33.5" | 33.5" | 34" | 34" | 34" | 34" | 34" |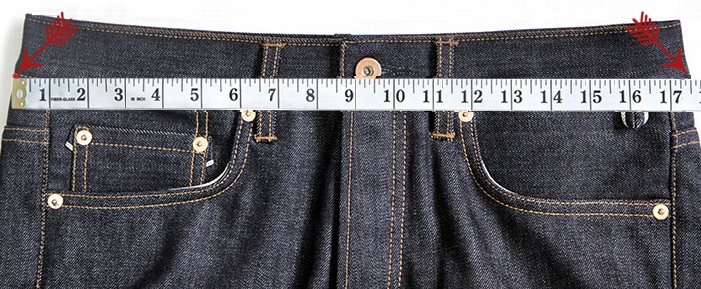 17.5inch across the waist will be a size 34.
If you normally wear a standard size 34 in Australia, you will fit in our size 34.
Measuring your bodies belt line it should measure 36inch waist circumference. To cross reference lay your normal jeans flat, measure cross the waist side to side equals 17.5inch. Remember our jeans have kevlar so if your normal 34 jeans might measure a little less.
USA: If you wear a size 34 in USA clothing, then you should choose 35 or 36 (use the circumference and across waist method).
If you need help with size selection please call or email with the following information:
- Normal jean size?
- Height?
- Actual waist circumference or across waist measurement of jeans?
The best product available to date

Really well made, very comfortable

500 GSM Kevlar black jeans

These jeans are excellent, they are heavy weight which inspires confidence and a very good fit. Can not speak highly enough of Matt, the owner, he was unbelievable helpful.

Great product and great service - fit well

Have just been wearing normal jeans but I was worried about the lack of protection. I spent a lot of time researching kevlar and leather and these seen to be excellent value for the level of protection. I am 6.5 with a slim build and these were a good fit, with nice length in the leg.Very happy with this product and the level of service.

Yes first they fit. they are comfortable and they feel hard wearing. I ride a postie bike as a contractor and I'm out on the bike for up to six hours a day. The knee pads feel excellent. I've tried a number of brands of Kevlar jeans over the last 15 years. When I've put them on I've get feeling of how I think they're going. Finn's feel pretty good. Also leg length is excellent and covers my boots when I'm on the bike. If anyone asked me if I'd recommend Finn I'd say go for it and it's value for the money.

The last 9 years I wore another popular brand of Kevlar reinforced jeans, the last pair finally wore out. So I thought I would give Finn Moto a go. They are the best ever, comfy, Kevlar from top to bottom, warm (I even wear them for work in winter) & I feel that if I did have an "Off" that these jeans would protect my arse. Thanks for the great quality jeans man. Can't recommend them enough.

very nice and excellent quality

Thanks for a very good pair of pant! I got them for my brother who loves his Harley but refuses to wear proper gear. He loved these Moto Finn pants! He visited me today wearing them! They look and fit great! Fast shipping.. Very reasonably priced! Thanks

Great fit, outstanding craftsmanship

Hi Matt, just received the jeans, and already very impressed. Great fit, outstanding craftsmanship, and look good to boot. I've been motorcycling for over 40 years, and gone through a lot of gear in that time. Your product and service are as good, if not better, than anything I've seen. I'll not only be shopping with you again, but will definitely be recommending you to all my motorcycling mates. Cheers John

Recently purchased these jeans for the extra protection of the Kevlar. They are an excellent fit but the denim is not a very heavy weight.

The jeans fit really well and are comfortable to wear all day long. I am 191cm tall and got the long leg option and they are perfect on the bike, i would highly reccommend this product.

The Good: The pants seem well constructed and sturdy and are 'much' heavier then regular jeans, haven't had them long though so will see how they wear after a bit of use. Even on a 30 degree day they were OK to get around in (although you wouldn't want to have to do anything too strenuous in them on a hot day or you'd sweat like a pig). Possible improvements: Belt loops could be about 3-4mm wider. I am 6'2" (189cm) tall, 80 kg and generally long and lean. I chose the 32'" (for a 34") waist, and although the pants fit OK around my gut, but I reckon the crotch needs to be deeper so the waist of the pants come up a bit higher, and the legs could be and inch longer and more tapered in around the lower leg/ankles. For a regular size dude (a bit shorter and thicker) though they would probably do the trick though. The knee pads feel pretty substantial, maybe a bit too thick and inflexible at first when you are riding with bent legs, (you could probably play cricket in them) but they feel like they would offer decent impact protection in a scrape (as long as you don't have a head on with an oncoming vehicle or hit a tree etc.), they are OK to walk around in without looking like you've injected steroids into your knee caps. The pads feel like they need to be an inch higher up (again might not be a problem for stumpier bodies). The pads could benefit by wrapping around and tapering off around the sides of the knees more. Hip pads (not quite as thick as the knee pads) would be a welcome addition. Overall not bad, but some modifications and a style for the lankier amongst us would be welcome!