Introducing our Original Washed Blue Full Lined KEVLAR® fibre Jeans. For three years we have tried & tested many combinations of KEVLAR® jeans, never releasing batches to the public as its safety standards, cut & looks where not appropriate for our customers.
After meeting a manufacture with the same mind set & experience we slowly went over & perfected each aspect of our KEVLAR® jeans insuring the pants meet & exceed a vast range of motorcyclist's needs & wants.
This internal R&D cost us a lot of time & money, for such a personalised item we wanted to make sure even the high demanding consumer was pleased, so we made these pants strictly to performance, comfort & looks. Only the highest quality materials & stitchers are used; we even got our own KEVLAR® batch made up to our specifications because the options available in the market did not satisfy our safety standards.

Features:
* Genuine Knitted Yellow 500gsm KEVLAR®
* UK Satra abrasion tested, lasts 7 seconds which meets level 2 abrasion
* Knitted to allow breathability
* Fully lined front & back from waist to ankle
* New Bionic-Finish water repellent ultra durable - Eco Friendly
* Airmax mesh comfort lined front and back (fixed to KEVLAR®)
* Smooth, high quality YKK zipper fly w/brass loop
* New Removable CE2 Approved Comfortable Memory Foam Armour at knees/shins
* Brass rivets at front pockets
* 5 belt loops
* Double & triple stitching throughout pants; inside, outside, back rise
* 3ply & 5ply bonded nylon thread
* 5 open pocket jean style

These beautiful blue indigo washed denim jeans easily passes the biker looking for a casual look with a wash effect to give a hint of character suiting most tastes. Making them the perfect all rounder. Straight out of the packet these jeans have a soft touch, so you can slide in them with ease and get on with your day.
Finnmoto's knitted protective layer of Dupont™ Kevlar® aramid fibre has been independently abrasion tested; the 500gsm knitted kevlar fabric meets level 2 for 13595-1: 2002 5.4 abrasion protection from Satra Technologies UK.
The actual measurements listed in the size chart below are in (INCH'S), recommended to use dress tape measure.

'Jean size' refers to the label size; true Australian jean size.
You can cross reference by measuring the circumference of your bodies waist line, match it upto 'recommended waist circumference'.
To triple check you can grab your existing good fitting jeans, lay them flat & measure across the waist as in picture below.
The sizing guide is our average leg cut (fits approx height 170cm to 185m). Short leg is approx 2inch shorter (<170cm). Long leg is approx 2inch longer. (>185cm)
| | | | | | | | | |
| --- | --- | --- | --- | --- | --- | --- | --- | --- |
| JEAN SIZE | 28 | 30 | 32 | 33 | 34 | 35 | 36 | 38 |
| Recommended Waist (circumference inch's) | 30" | 32" | 34" | 35" | 36" | 37" | 38" | 40" |
| Across Waist | 14.5" | 15.5" | 16.5" | 17" | 17.5" | 18" | 18.5" | 19" |
| Outer Leg | 40.5" | 41.5" | 41.5" | 41.5" | 42" | 42" | 42.5" | 42.5" |
| Inner Leg | 31.5" | 32" | 32.5" | 32.5" | 33" | 33" | 33.5" | 33.5" |
| | | | | | | | | |
| --- | --- | --- | --- | --- | --- | --- | --- | --- |
| JEAN SIZE | 38 | 40 | 42 | 44 | 46 | 48 | 50 | 52 |
| Recommended Waist (circumference inch's) | 40" | 42" | 44" | 46" | 48" | 50" | 52" | 54" |
| Across Waist | 19" | 20" | 21" | 22" | 23" | 24" | 25" | 26" |
| Outer Leg | 42.5" | 43" | 43.5" | 44" | 44.5" | 45" | 45.5" | 46" |
| Inner Leg | 33.5" | 33.5" | 33.5" | 34" | 34" | 34" | 34" | 34" |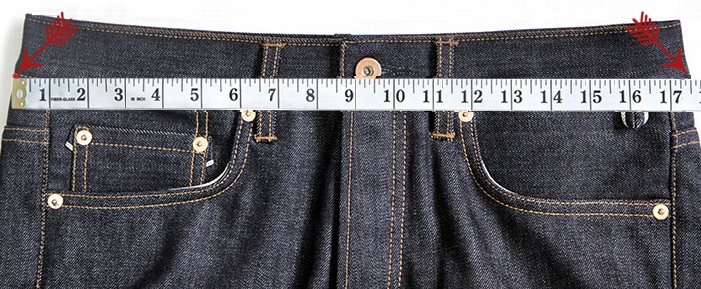 17.5inch across the waist will be a size 34.
If you normally wear a standard size 34 in Australia, you will fit in our size 34.
Measuring your bodies belt line it should measure 36inch waist circumference. To cross reference lay your normal jeans flat, measure cross the waist side to side equals 17.5inch. Remember our jeans have kevlar so if your normal 34 jeans might measure a little less.
USA: If you wear a size 34 in USA clothing, then you should choose 35 or 36 (use the circumference and across waist method).
If you need help with size selection please call or email with the following information:
- Normal jean size?
- Height?
- Actual waist circumference or across waist measurement of jeans?
29 Reviews
Great quality Jeans and Excellent service

I got these online with the Hoodie and Both are great quality and fits great.
After I ordered both products I had an unexpected phone call to confirm my size as the sizes I ordered usually don't go together. They were right, I changed my order to the size they recommended and when they arrived, they fit perfectly.

The service was excellent, they know the product and are very easy to deal with. Delivery was very fast.

would recommend to anyone

No problems with Fit, seems well priced vs competing products

Jeans are comfortable and fit well in my regular size over shin high riding boots. Ordered hip padding and they slide into the Velcro pockets without issue. Confident these will protect me in a down which I'll undoubtedly encounter soon on my L's.

I have two pairs of the 500gsm Kevlar jeans and bought these because they offered a highlevel of comfort, protection and value for money. I am not one for buying riding jeans with kevlar at the knees, rear etc. When you have a slide there is no guaratntee how or where you will slide.

Recently rounding a corner at about 55kmh I hit a wallaby and slid about 15 metres on a surfaced road running through a national park, read "rough surface". My gear, which included the jeans did its job perfectly and as a result of the slide I came out without a scratch, except for a slight foot spraindue to the weight of the bike on my boots.

Would I buy these jeans again? The answer to that is yes as I have already done so and would not hesitate to recommend them.

Great Service, fabulous product

My Jeans arrived on time were a perfect fit and are very comfortable to wear, the quality is great, thanks guys for providing such a good service and high quality product.

My 450 gram Kevlar jeans arrived today and I can't rate them high enough. Out of the bag they are true to the website colour that I ordered, have that already broken in feeling and importantly they just look good. I have personally had a gripe with protective jeans that make you look like you shop at Lowes, these I can attest to don't. No point just admiring the new purchase so I pulled them on (they fit true to the size chart) and went for a blast. Results are in, very comfortable and sit like a bike jean should. The armour in the knees is soon forgotten about but I don't know if I would have it in on a multi day ride. The jeans are reasonably "bulky" but protection with the 450 gram Kevlar has to add in that department and it's not noticeable when your wearing them. Recommend.

confidence and protection

My jeans just arrived today and took them out for a little ride. They are very heavy duty, the overall fit was perfect. I normally wear a size 34 in Wranglers but I ordered a size 36 and they fit perfectly. I also opted for the additional CE protection in the hips. Overall they are a very nice pair of armored jeans. I have visited several local shops near me and I have not seen anything close to the Quality that I received from Finn Moto. I would definitely buy again! They may be a little heavy in thick for summer riding but if you value your skin in the event of a crash these are perfect. Thank you very much for providing a fully lined Kevlar jeans at a reasonable price.

Message added by Finn Moto: Thank you David for your feedback. You did the right thing USA customers need to size up. eg if your normally 34 in USA jeans, choose our size 36 (best to cross reference your actual body waist measurement with our size chart). Australians the finn moto jeans run true to size; so if you normally wear 34 in standard jeans, you will fit into our size 34.

Product is perfect, service is spot on, delivery time was exceptional, don't hesitate just buy! Thanks finn

Comfortable and nice looking jeans

Very comfortable and although I can feel the knee protectors, it doesn't bother me in any way. Jeans are great for winter riding, keeps you nice and warm. I was very happy with the variety of available sizes, as I have longer legs. Overall, good quality product and highly recommended.

Brilliant product at a much better price than Draggin Jeans.

Very comfortable fit, a high quality product. Would definitely purchase from Finn Moto again.

great product, excellant service

The jeans are comfortable and I like to thank the people at Finn Moto for taking the time to ensure a good fit. I purchased a pair for my wife and she lives them too.

Hey guys
Got my 450 gram Kevlar jeans the other day and took them straight up the Castlereagh hwy to Mudgee. Didn't bother changing to go out that night cause they were so comfy and warm.
Thanks for producing an awesome product


most comforable riding jeans i own

I recieved the jeans 10 min before a planned long ride , I quickly changed and rode for 3 hours. Other than being a little thicker than regular jeans , the were just as comfortable as my daily Levi's ! The fit was good, just enough stretch for comfortable riding, good air flow and high confidence from wearing 450 gsm Kevlar knowing my skin would be spared in case of an unlucky event. Well worth the price . Highly recommend, spend the money and save your skin.