Introducing our new summer weight dirty denim blue KEVLAR® fibre lined Jeans. Fully lined with 330gsm terry-loop knitted Dupont™ KEVLAR® , the pants are suitable for the summer months in temperatures upto 40 degrees celsius or any rider after a more fitted less bulky/weight pair of motorcycle riding pants.
The pants are made to the same standards as our premium 500gsm version, we have simply used a lighter weight KEVLAR® for the every day rider, giving a better balance of comfort, breath-ability & budget without sacrificing protection standard for summer riding. Strictly made to a high minimum standard, performance, comfort & looks. Only the highest quality materials & stitchers are used.

Features:
* Genuine Knitted Yellow 330gsm KEVLAR®
* UK Satra abrasion tested, lasts 4 seconds which meets level 1 abrasion
* Knitted to allow breathability
* Fully lined front & back from waist to ankle
* Great to wear all season, light weight non bulky
* Airmax mesh comfort lined front and back (fixed to KEVLAR® )
* Smooth, high quality YKK zipper fly w/brass loop
* New Removable CE2 Approved memory foam armour at knees
* Brass rivets at front pockets
* 5 belt loops
* Double & triple stitching throughout pants; inside, outside, back rise
* 3ply & 5ply bonded nylon thread
* 5 open pocket jean style

These beautiful dirty blue indigo washed denim jeans easily passes the biker looking for a casual look with a wash effect to give a hint of character suiting most tastes. Making them the perfect all rounder. Straight out of the packet these pre-washed jeans have a soft touch, so you can slide in them and go for a ride without any break in time.
Finnmoto's knitted protective layer of Dupont™ Kevlar® aramid fibre has been independently abrasion tested; passing level 1 in single layer areas for 13595-1: 2002 5.4 abrasion protection from Satra Technologies UK.
The actual measurements listed in the size chart below are in (INCH'S), recommended to use dress tape measure.

'Jean size' refers to the label size; true Australian jean size.
You can cross reference by measuring the circumference of your bodies waist line, match it upto 'recommended waist circumference'.
To triple check you can grab your existing good fitting jeans, lay them flat & measure across the waist as in picture below.
The sizing guide is our average leg cut (fits approx height 170cm to 185m). Short leg is approx 2inch shorter (<170cm). Long leg is approx 2inch longer. (>185cm)
| | | | | | | | | |
| --- | --- | --- | --- | --- | --- | --- | --- | --- |
| JEAN SIZE | 28 | 30 | 32 | 33 | 34 | 35 | 36 | 38 |
| Recommended Waist (circumference inch's) | 30" | 32" | 34" | 35" | 36" | 37" | 38" | 40" |
| Across Waist | 14.5" | 15.5" | 16.5" | 17" | 17.5" | 18" | 18.5" | 19" |
| Outer Leg | 40.5" | 41.5" | 41.5" | 41.5" | 42" | 42" | 42.5" | 42.5" |
| Inner Leg | 31.5" | 32" | 32.5" | 32.5" | 33" | 33" | 33.5" | 33.5" |
| | | | | | | | | |
| --- | --- | --- | --- | --- | --- | --- | --- | --- |
| JEAN SIZE | 38 | 40 | 42 | 44 | 46 | 48 | 50 | 52 |
| Recommended Waist (circumference inch's) | 40" | 42" | 44" | 46" | 48" | 50" | 52" | 54" |
| Across Waist | 19" | 20" | 21" | 22" | 23" | 24" | 25" | 26" |
| Outer Leg | 42.5" | 43" | 43.5" | 44" | 44.5" | 45" | 45.5" | 46" |
| Inner Leg | 33.5" | 33.5" | 33.5" | 34" | 34" | 34" | 34" | 34" |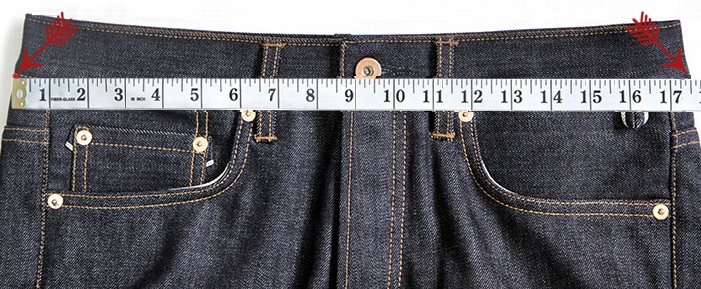 17.5inch across the waist will be a size 34.
If you normally wear a standard size 34 in Australia, you will fit in our size 34.
Measuring your bodies belt line it should measure 36inch waist circumference. To cross reference lay your normal jeans flat, measure cross the waist side to side equals 17.5inch. Remember our jeans have kevlar so if your normal 34 jeans might measure a little less.
USA: If you wear a size 34 in USA clothing, then you should choose 35 or 36 (use the circumference and across waist method).
If you need help with size selection please call or email with the following information:
- Normal jean size?
- Height?
- Actual waist circumference or across waist measurement of jeans?
37 Reviews
The product arrived very quickly. The jeans are of good quality, my only concern was I still had to take the hem up as they where to long. Size is correct sizing, I think in summer time they will be quite warm. Very comfortable. They are quite expensive but they are are good quality and I would buy another pair.

As per the Finn Moto website odered a size up, normally 34 waist ordered 36" waist you need the extra room to get on easily, once on very comfortable however a little warm when not riding! but OK I guess its the Kevlar that you want to protect you on an event?????

Bought a pair bought another pair great pair of Kevlar jeans For what your paying .really happy with customers service will recommend if you need a pair Kevlar jeans.

Safety wise, this product ticks the box. But not just, it is also a very comfortable pair of kevlar jeans that even looks good.

AAA!!! Awesome Look, Awesome Protection, Awesome Service!!!

Had these jeans for about 3 months now and love them!!!

These jeans actually really just look like a good pair of jeans that I would normally wear out. They are not goofy looking, like many similar products which have weird cuts with stitch areas around the knee etc...

When in riding postition, the protection feels fantastic, with full kevlar lining from top to bottom, and well-placed and comfortable knee/shin and hip padding. I haven't taken a fall with them, but I feel confident that I'm well protected!

I was going to buy the more expensive 450gsm version but Matt suggested the cheaper 300gsm option would be more suitable for my weather and type of riding in Sydney, a testament to Finn moto's desire for customer satisfaction not just profit alone.

It's true the knee pads sit a little low and feel a little weird and uncomfortable when walking, but that is because they are meant to be used when IN RIDING POSITION on bike, which they seem to do very well.

The heel does catch the interior lining frequently when removing jeans, but this can easily be remedied by remembering to point toes downward when removing jeans, allowing jeans to slip over the foot easier.

Fit is true to size. I am ~90kg & ~185cm and usually wear size 34/36 jeans and the size 34 Long fit me perfectly.

Again, VERY happy with these jeans and would definitely recommend and also buy again if needed to! Thanks Finn moto!

The service was amazing, considering I mucked up my order. I'm really grateful for the kindness of the staff, and the jeans are great value. My daughter's partner says they're really comfortable, and now I know he's safe.

Great Jeans with protection

Well made and comfortable jeans, full length protection from the kevlar liner. knee pads sit a bit low and feel a bit weird when walking. Great delivery, received within a couple of days of ordering. Thanks

great casual motorcycle pants

Warm, stylish, casual appearance, comfortable, but tricky to take off due to inner lining catching on your heel. Best taking knee protectors out as they uncomfortable due to not flexible enough over knee.

These are a really great pair of Jeans.....soft, comfortable and near full Kevlar at a great price. Thanks Matt, I'm a very happy customer.....

Blue 300 gsm kevlar jeans

Ordered these jeans on Friday and received them on Tuesday. Great service from Finn and fast shipment. These are excellent jeans and easily comparable with $250+ draggins and similar. Full Kevlar lining is great and fit is what I would call 'relaxed'. Sizing is true to the sizing chart I found. As these are fully Kevlar lined they are heavy so ideal for touring and long days out. Not the best if you want to spend the day walking around as they are probably a bit heavy for casual wear. If however you are looking for a good pair of riding jeans offering a high level of protection against the tintop menace then these are an excellent buy.

Great Reviews For A Reason!!

I have been riding for a few years now but had been yet to find a pair of kevlar jeans that I was happy with enough to purchase. I've looked in numerous places and have driven out of my way to go to specialty shops but hadn't found anything I liked. If I'm going to spend good money on riding jeans I want them to protect, but most importantly for me I want to look good in them.

All the kevlar jeans I had found in other stores were very obviously kevlar jeans. They had seams in different places across the legs and never seemed to be fashionable. I wanted a pair of kevlar jeans that look just like normal jeans so that I had peace of mind that I would be protected, whilst still looking as though I was tough enough to not worry about that. These jeans are the ONLY jeans that I have found that look good enough to wear anywhere!

I had also found at the other numerous motorcycle clothing stores that getting jeans to fit me was near impossible! If you are a large man or are overweight it is easy, but for a thin waist-ed man it is difficult. I was pleasantly surprised when I called Matt and he said that he had smaller sizes than 32 in stock!

The protection in these jeans also impressed me. Most other jeans I have seen have Kevlar in sections only and if you do have a crash and the jeans slide around there is no protection. It's comforting to know that with these I don't need to worry about that and will be protected in any situation.

When I received the pair I was really surpised with the quality. As the heading says, there is a reason why there are great reviews for these jeans, they are a great quality product and are an excellent product for the price!! They are very comfortable and feel safe and reliable without being very heavy. I found Matt to be a great seller and have recommend these jeans to others, who after seeing the jeans bought some for themselves too!!

Cheers Matt for finally ending my search for kevlar jeans which meet my strict requirements!
BTW sorry this review is so long, I just hope someone reads this and gets a pair instead of wasting years of searching like I did!

Good fit, comfortable and not too hot which is a bonus .Also the most amazing service - my jeans arrived within 2 days of ordering them!