Introducing our new summer weight dirty denim blue KEVLAR® fibre lined Jeans. Fully lined with 330gsm terry-loop knitted Dupont™ KEVLAR® , the pants are suitable for the summer months in temperatures upto 40 degrees celsius or any rider after a more fitted less bulky/weight pair of motorcycle riding pants.
The pants are made to the same standards as our premium 500gsm version, we have simply used a lighter weight KEVLAR® for the every day rider, giving a better balance of comfort, breath-ability & budget without sacrificing protection standard for summer riding. Strictly made to a high minimum standard, performance, comfort & looks. Only the highest quality materials & stitchers are used.

Features:
* Genuine Knitted Yellow 330gsm KEVLAR®
* UK Satra abrasion tested, lasts 4 seconds which meets level 1 abrasion
* Knitted to allow breathability
* Fully lined front & back from waist to ankle
* Great to wear all season, light weight non bulky
* Airmax mesh comfort lined front and back (fixed to KEVLAR® )
* Smooth, high quality YKK zipper fly w/brass loop
* New Removable CE2 Approved memory foam armour at knees
* Brass rivets at front pockets
* 5 belt loops
* Double & triple stitching throughout pants; inside, outside, back rise
* 3ply & 5ply bonded nylon thread
* 5 open pocket jean style

These beautiful dirty blue indigo washed denim jeans easily passes the biker looking for a casual look with a wash effect to give a hint of character suiting most tastes. Making them the perfect all rounder. Straight out of the packet these pre-washed jeans have a soft touch, so you can slide in them and go for a ride without any break in time.
Finnmoto's knitted protective layer of Dupont™ Kevlar® aramid fibre has been independently abrasion tested; passing level 1 in single layer areas for 13595-1: 2002 5.4 abrasion protection from Satra Technologies UK.
The actual measurements listed in the size chart below are in (INCH'S), recommended to use dress tape measure.

'Jean size' refers to the label size; true Australian jean size.
You can cross reference by measuring the circumference of your bodies waist line, match it upto 'recommended waist circumference'.
To triple check you can grab your existing good fitting jeans, lay them flat & measure across the waist as in picture below.
The sizing guide is our average leg cut (fits approx height 170cm to 185m). Short leg is approx 2inch shorter (<170cm). Long leg is approx 2inch longer. (>185cm)
| | | | | | | | | |
| --- | --- | --- | --- | --- | --- | --- | --- | --- |
| JEAN SIZE | 28 | 30 | 32 | 33 | 34 | 35 | 36 | 38 |
| Recommended Waist (circumference inch's) | 30" | 32" | 34" | 35" | 36" | 37" | 38" | 40" |
| Across Waist | 14.5" | 15.5" | 16.5" | 17" | 17.5" | 18" | 18.5" | 19" |
| Outer Leg | 40.5" | 41.5" | 41.5" | 41.5" | 42" | 42" | 42.5" | 42.5" |
| Inner Leg | 31.5" | 32" | 32.5" | 32.5" | 33" | 33" | 33.5" | 33.5" |
| | | | | | | | | |
| --- | --- | --- | --- | --- | --- | --- | --- | --- |
| JEAN SIZE | 38 | 40 | 42 | 44 | 46 | 48 | 50 | 52 |
| Recommended Waist (circumference inch's) | 40" | 42" | 44" | 46" | 48" | 50" | 52" | 54" |
| Across Waist | 19" | 20" | 21" | 22" | 23" | 24" | 25" | 26" |
| Outer Leg | 42.5" | 43" | 43.5" | 44" | 44.5" | 45" | 45.5" | 46" |
| Inner Leg | 33.5" | 33.5" | 33.5" | 34" | 34" | 34" | 34" | 34" |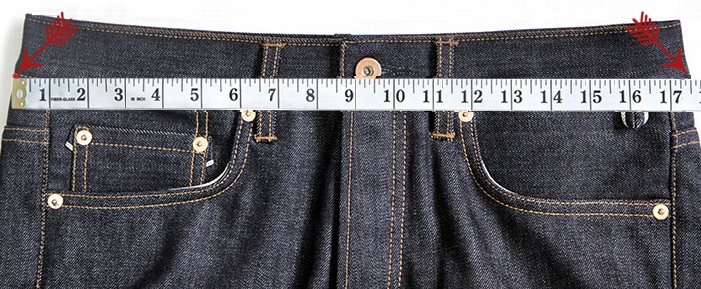 17.5inch across the waist will be a size 34.
If you normally wear a standard size 34 in Australia, you will fit in our size 34.
Measuring your bodies belt line it should measure 36inch waist circumference. To cross reference lay your normal jeans flat, measure cross the waist side to side equals 17.5inch. Remember our jeans have kevlar so if your normal 34 jeans might measure a little less.
USA: If you wear a size 34 in USA clothing, then you should choose 35 or 36 (use the circumference and across waist method).
If you need help with size selection please call or email with the following information:
- Normal jean size?
- Height?
- Actual waist circumference or across waist measurement of jeans?
44 Reviews
This is now the 3rd pair of jeans I have purchased from Matt over the years. Excellent quality, comfort and fit. Matt took the time to discuss correct sizing with me and provided a few different samples to try. Quick postage, easy transaction. Will definitely use Finn Moto again!

I dropped in on Matt wanting to buy a pair of Kevlar jeans the other week because I wanted to try a couple of different sizes and nothing was a problem. He didn't give up till I was happy! I have been on 2 long rides so far and I am really impressed with my choice, they are so comfortable and light. I love the the way they look like a pair of Levi's, straight cut, no patch work. I have to go back and get a pair of black ones.

Blue Motorcycle Jeans - 300GSM Kevlar

I was dubious about buying clothes online, let alone motorcycle jeans with internal armour. I contacted Finn Moto for some advice on sizing, and then doubtfully put in an order. The jeans fit perfectly, with the armour in just the right positions over my knee caps and hips. I am thoroughly happy with the purchase, the jeans are great and just what I was looking for.

Good fit quality product

Great service 7 days from Australia to NZ nice product will recommend to others in bike community

Really happy with these jeans. I had to swap from the slim ones which were a lot tighter that I was expecting, and exchange was easy and super quick. Fit is great, just like a regular jean and not too baggy. I like the full Kevlar lining which feels a lot more substantial than other riding jeans I've tried. Might be a bit warm in summer but you always have to make sacrifices somewhere. The only thing I would change is having rubberised rivets and button, or stitched, to save scratching the tank. Otherwise, really awesome riding jeans!

Firstly the delivery was very quick. Two days to us on the NSW southern boarder. I took Matts advise and ordered the size he recommended. Brilliant fit, they are a snug and surprisingly warm pair of jeans. Outside air was 10d egrees I rode for three hours with the jeans being the only pants on and stayed quite comfortable. They are well made and look good, no daggy seams all over the legs. Fully recommend them.

I have only ridden on one small trip being approx. 250ks using these jeans. I found them very comfortable and also reassuring that they will protect me in a slide if I drop the bike. I had to take them up in the legs but that was no problem. There is plenty of room in the legs and that was good as I ride a sports bike. Thought they maybe a bit of a tight fit in my boots but the fabric is so soft they were no problem.
The service Matt provided was exceptional as his product is. I will allways be purchasing this product from here on.
I would give 5 stars but I dont know how many years the stiching will last so time will tell.


Best jeans I've ever worn

I love these jeans. I have worn several different types and these are the best so far. The pads are very comfortable and still feel very strong. I will be buying more.

Jeans are a really good fit and Matt was very helpful providing incite full advice on fit and sizes. Can recommend the Jeans and the service.

Andrew QLD Toowoomba, Ordered Wednesday arrived Friday, best fitting for old 73 year old, best features short leg excellent fit for old shape. Shopped all over the net so pleased I purchased, I can't ride that well but I am off, cheers

Fantastic service and product

Just purchased these jeans and have got to say they are the best fit I have found. The quality is spot on and matches what the site says. I have now done a few rides in them and they are so comfortable. The best part for me is they look just like a normal pair of jeans. I have spoken to Matt, the owner, and have to say he really is a nice guy. Nothing is too much trouble for him and he is happy to chat about any of his products, you wont get this kind of service from the so called big manufactures. I have now ordered a Hoody from Matt and look forward to giving a review on that after trialling it. Highly recommended for value and service, Give Finnmoto a go you wont be sorry.