Introducing our new summer weight Black KEVLAR® fiber lined Jeans. Fully lined with 300gsm knitted KEVLAR®, the pants are suitable for the summer months or any rider after a more fitted less bulky/weight pair of motorcycle riding pants.
The pants are made to the same standards as our premium version, we have simply used a lighter weight KEVLAR® to meet budget conscious customers aswell as offer a pant option suitable for summer. Strictly made to a high minimum standard, performance, comfort & looks. Only the highest quality materials & stitchers are used.

Features:
* Genuine Knitted Yellow 330gsm KEVLAR®
* UK Satra abrasion tested, lasts 4 seconds which meets level 1 abrasion
* Knitted to allow breathability
* Fully lined front & back from waist to ankle
* New Bionic-Finish water repellent ultra durable - Eco Friendly
* Great to wear all season, light weight non bulky
* Airmax mesh comfort lined front and back (fixed to KEVLAR®)
* Smooth, high quality YKK zipper fly w/brass loop
* New Removable CE2 Approved comfortable memory armour at knees
* Brass rivets at front pockets
* 5 belt loops
* Double & triple stitching throughout pants; inside, outside, back rise
* 3ply & 5ply bonded nylon thread
* 5 open pocket jean style

These black denim jeans give the appearance your wearing a normal pair of denim jeans. No outer seems so they look normal on & off the bike. Straight out of the packet these jeans are prewashed with a soft touch, so you can slide in them with ease and go for a ride immediately.
Finnmoto's knitted protective layer of Dupont™ Kevlar® aramid fibre has been independently abrasion tested; passing level 1 in single layer areas for 13595-1: 2002 5.4 abrasion protection from Satra Technologies UK.
The actual measurements listed in the size chart below are in (INCH'S), recommended to use dress tape measure.

'Jean size' refers to the label size; true Australian jean size.
You can cross reference by measuring the circumference of your bodies waist line, match it upto 'recommended waist circumference'.
To triple check you can grab your existing good fitting jeans, lay them flat & measure across the waist as in picture below.
The sizing guide is our average leg cut (fits approx height 170cm to 185m). Short leg is approx 2inch shorter (<170cm). Long leg is approx 2inch longer. (>185cm)
| | | | | | | | | |
| --- | --- | --- | --- | --- | --- | --- | --- | --- |
| JEAN SIZE | 28 | 30 | 32 | 33 | 34 | 35 | 36 | 38 |
| Recommended Waist (circumference inch's) | 30" | 32" | 34" | 35" | 36" | 37" | 38" | 40" |
| Across Waist | 14.5" | 15.5" | 16.5" | 17" | 17.5" | 18" | 18.5" | 19" |
| Outer Leg | 40.5" | 41.5" | 41.5" | 41.5" | 42" | 42" | 42.5" | 42.5" |
| Inner Leg | 31.5" | 32" | 32.5" | 32.5" | 33" | 33" | 33.5" | 33.5" |
| | | | | | | | | |
| --- | --- | --- | --- | --- | --- | --- | --- | --- |
| JEAN SIZE | 38 | 40 | 42 | 44 | 46 | 48 | 50 | 52 |
| Recommended Waist (circumference inch's) | 40" | 42" | 44" | 46" | 48" | 50" | 52" | 54" |
| Across Waist | 19" | 20" | 21" | 22" | 23" | 24" | 25" | 26" |
| Outer Leg | 42.5" | 43" | 43.5" | 44" | 44.5" | 45" | 45.5" | 46" |
| Inner Leg | 33.5" | 33.5" | 33.5" | 34" | 34" | 34" | 34" | 34" |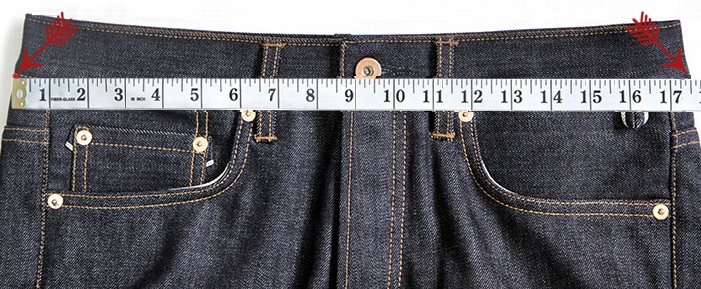 17.5inch across the waist will be a size 34.
If you normally wear a standard size 34 in Australia, you will fit in our size 34.
Measuring your bodies belt line it should measure 36inch waist circumference. To cross reference lay your normal jeans flat, measure cross the waist side to side equals 17.5inch. Remember our jeans have kevlar so if your normal 34 jeans might measure a little less.
USA: If you wear a size 34 in USA clothing, then you should choose 35 or 36 (use the circumference and across waist method).
If you need help with size selection please call or email with the following information:
- Normal jean size?
- Height?
- Actual waist circumference or across waist measurement of jeans?
27 Reviews
Excellent service & shipping

Jeans are excellent quality, and fit perfect

Black motorcycle jeans 300 gsm kevlar

Great jeans, comfortable, look good, excellent protection with hip & knee armour, great service from Matt,
Cheers.

I received my back order for these jeans and i am really pleased with them - the cut, stitching and lining is first class - they look modern and feel like i'll get the protection i'm looking for and the fit for me is excellent. I have thick gym legs and most jeans in size 36 are too skinny or are way too baggy - these fit somewhere in the middle. The knee armour is also not easily discernable to the naked eye.


Just got back to Shellharbour after riding to Townsville and Mission Beach...mate, comfortable pants that I didnt take off...Made well thanks...

More kevlar for your buck

Great pair of riding jeans. Complete Kevlar coverage from waist to ankle and good thick denim. The visoelastic armour is lightweight and flexible, but hardens on impact. Much better than anything else at this price point.
Confortable on the bike with good airflow.
Picked these up from the warehouse and had a bit of a chat to the owner - these are all designed by him and independently tested for abraision resistance. He's doing good work, would recommend.

USA riders go one size up - comfortable completely Kevlar wrapped

I rode 162 miles today, with both my new Finn Jeans and Hoodie. The weather started off at 65F / 18c and went on up to 88F / 32c degrees. I think that might be the high for my Hoodie. Both were comfortable and fit fine. As I learned, AU sizing is a bit different than US in the pants and hoodie; we need to move up one size whenever ordering. Thank you for the sizing chart on the gloves. Plus, your Youtube videos helped a lot! All was wonderfully comfortable. It is pleasant to feel completely kevlar wrapped. The muted style is to my taste as I don't like to scream biker when I go into an establishment. I can wear these anywhere as the armor isn't bulging out all over. First rate product, first rate service (as you called to check that my sizing was correct and fixed it BEFORE it was sent), first rate price and a first rate ride! Thanks

Good fitting riding jeans

They are true to size, look and fit good. They also don't have the stitching that shows where the kevlar has been sewn onto the jean and are very reasonably priced. I'm very happy with my purchase and would recommend them to anyone considering buying a pair.

Great product and great service

Bought these jeans after buying a hoodie and being impressed with the quality. The jeans are well made, high quality, sizing is accurate and service is second to none. Ordered on Thursday and they were on my doorstep on Saturday morning. Wouldn't hesitate to recommend.

These are the most durable and comfortable jeans I have ever owned. I have bought 4 pairs now, and they have all been excellent quality.

Most comfortable jeans ever!!!

Purchased these jeans online, with the measurements being spot on. Ordered on Friday...delivered to home address in Bundaberg, Qld Monday morning. Unbelievably fast service. Will be recommending these jeans (and FinnMoto) to my local club members. Thanks for such all round service and quality.

Finally a product that fits

After trying other Kevlar Jean suppliers with little or no success I contacted Finn moto.
A phone call to Matt and a few quick measurements later, I had an order confirmed. Jeans arrived as described and a perfect fit, longer legs and all. Very happy.......Thanks

Excellent Riding Jeans- A must-have staple for your gear!

THE COMPANY:
As you may have read in other reviews on the site, Finnmoto and Matt have service second to none. I know this because I've purchased 4 different riding jeans from 4 different companies from around the world.

The personal attention and focus on details Matt gives to his customers and puts in his products is exceptional.

THE JEANS:
As mentioned, I have 4 different riding jeans. In terms of protection, price, and style; these are truly great jeans to have in your gear.

Some companies will cut corners by only providing kevlar in high wear areas, or a lower grade of kevlar, or just a thinner type of kevlar. Finnmoto excels against the competition in all these areas.
These jeans have Kevlar throughout the entire leg and waist, with hidden seams (so you don't look weird when hanging out), and have removable armor, all for a very reasonable price.

The only downside I've experienced is that I haven't been able to wear it as much as I'd like- due to me growing in size haha.
But most likely will purchase again in the future, just a size up!